Elizabeth-Jane Baldry is the world's only silent movie harpist providing accompaniment to silent film screenings in the manner of the old silent movie pianists.
"Elizabeth-Jane Baldry's harp accompaniment to Marion Rice Davies' LITTLE OLD NEW YORK was superb –
fresh, bright - a revelation. Who would have thought the harp could have such range and depth. Another example of a score transforming a charming, lightweight film into first-rate entertainment." Russell Merritt PhD, Professor of Film Studies, University of California, Berkeley.
"It was if she was another actor in the film - it was an intellectual and emotional response." - David Butler PhD, Lecturer in Screen Studies, Manchester University.
"A Herculean effort...ingenious variety." - Luke McKernan, Curator, Moving Image at the British Library and editor of Bioscope magazine.
" I saw SUNRISE last year with an accompaniment that completely killed it. Your harp score tonight has restored my faith in this wonderful film." - audience member, Arnolfini, Bristol.
"For anyone who mistakenly associated the harp with Palm Court trios or the signature-tune to "Mrs. Dale's Diary", imagining it capable only of brittle versions of light classics or relentlessly glutinous arpeggia, this performance was an education. Elizabeth-Jane conjured 95-minutes of riveting musical commentary on the story, with sounds ranging from startling metallic eruptions at moments of shock plot developments, through foot-tapping jazz-age tunes in the dance-hall sequence, to voluptuous pastoral romances and affecting melodies drawing us into deeper empathy with the characters' emotional troubles." - Wiveliscombe Silent Film Festival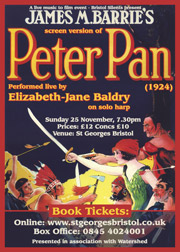 "...a wonderful performance...the event was fantastic."
Emma Watkins
Cinema Programmer
Barbican Centre, London.
"an extraordinary performance...sensational."
Chris Daniels, artistic director, Bristol Silents.