Elizabeth-Jane Baldry was born in Hampshire. She read music at Exeter University, travelling to the Royal College of Music in London for her harp studies. She now gives around one hundred performances a year from formal recitals in historic houses or on specialist arts cruises to weddings and funerals. Her compositions have been used by ITV, the BBC and by Irish, Japanese and Canadian film, radio and television. In 2006 she was the only British performer to be shortlisted for Best Classical Event Award in the combined Brighton Festivals, England's largest Arts Festival. She has performed in the US to sold-out audiences, and in Italy at the Pordenone Silent Film Festival, the largest of its kind in the world.
Elizabeth-Jane's unique research into Victorian Fairy Harp Music has led to many quaint adventures - a CD with worldwide distribution; radio and TV broadcasts including a half-hour Radio 4 documentary; a West End stage show with actor Simon Callow for which she also wrote the songs; appearances at the Royal Academy of Art exhibition of Victorian fairy paintings and at Prince Charles' unveiling of the restored Elfin Oak Tree in Kensington Gardens; involvement in the major French exhibition Dragons, Elfes et Fées, and an appearance in the award-winning Canadian television documentary The Fairy Faith: all this and more besides making her England's unofficial Fairy Harpist!
Her uniquely rich tone on the harp has graced several film/TV soundtracks including more than fifty episodes of ITV's magical children's series Bernard's Watch which has been shown in over thirty countries including America, Canada, Iceland, Kenya, Iran, South Africa, Poland and Cyprus.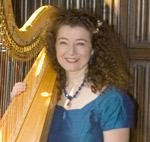 "...this truly magical evening. Elizabeth-Jane is Britain's premier harpist of Victorian fairy music and she played some fine examples of this little known genre always with flair, intensity and emotion."
- Three Weeks Magazine