Elizabeth-Jane lives in a little granite cottage full of books and harps in the vibrant Dartmoor village of Chagford. She enjoys philosophy, mythology and folklore, art history, cinema, green issues, walking on Dartmoor and caring for her three acres of newly planted British broadleaf woodland.
She is the mother of two musical sons, ex-choristers from Westminster and St Paul's Cathedrals now both at university.
See the unofficial photos (much more interesting)
"Until he extends the circle of compassion to all living things, man will not himself find peace."
- Albert Schweitzer (1875-1965) German philosopher and musician.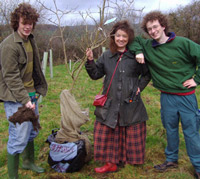 Alex, Edmund and mum planting a mulberry tree in their wood.